Greeting
Last Update: 2019.6.24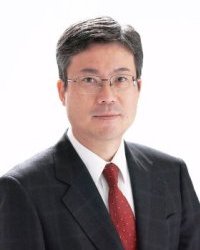 Dear Colleagues
My name is Tadashi Kimura, appointed as the Chairperson of the new Executive Board launched after General Assembly on June 22, 2019. After graduating from Osaka University in 1985, I have been engaged in treatment, research, and education in the perinatal, reproductive, female healthcare, and gynecologic oncology fields at the university and city hospitals. In our Society, I served as a Board Member since 2009, Chairperson of International Relations Committee since 2011, and Vice Chairperson since 2017. Our Society introduced the Chairpersonship of the Executive Board in 2007 and has achieved great progress led by four chairpersons; Prof. Taketani, Prof. Yoshimura, Prof. Konishi, and Prof. Fujii. As a successor of them, I would like to do my very best to serve my two-year term dedicated to the noble aim of this Society, to strive for the progress and development of obstetrics and gynecology, and to contribute to the welfare of mankind and society.
Our roles have two aspects: One is the promotion of academic pursuits in Obstetrics and Gynecology, and the other is to deliver messages and opinions how women's healthcare and social healthcare system should be as a group of experts.
For the promotion of academic pursuits, we further invigorate the research of the young members responsible for the future through awards such as the Distinguished Scientific Achievement Award and the Best Paper Award. We should be responsible for the research area that contributes to improvement in the health of all women of all ages and all people born of women. In addition to the research performed in so-called wet lab, of which Japanese researchers has been done very well, we will improve our database and media to make the environment that facilitates research of so-called dry areas with real-world data. Introduction of the latest knowledge from worldwide to the members is essential to promote academic pursuits. Along with promotion of academic meetings and publications including our official journals and guidelines, we will also provide various kinds of information electronically, such as through websites. Under the decision by our immediate past chairperson Prof. Fujii, our academic meeting offices facilitate to submit as many as English-written scientific papers to be familiar to international circumstances. As survey results show general satisfaction with the current percentage of sessions in English, we will continue to maintain this activity. Further, I expect that the interaction with the International Federation of Gynecology and Obstetrics (FIGO), the Asia & Oceania Federation of Obstetrics & Gynecology (AOFOG) and supportive exchange with academic societies of countries with restricted medical resources will help us to discover new academic foci that cannot be noticed staying in Japan alone, to promote research for the solutions.
As a group of experts, it is also our critical responsibility to convey how healthcare and obstetrics-gynecology (Ob-Gyn) medical system should be. We have to earnestly address the steeply declining birth number in Japan. At the same time, we need to clearly respond to the reform of working practices of our members within five years. What I felt through my job as a director at the university hospital is that the working environment of obstetrics and gynecology is not understood well, not only by society but also people in the same business (and even if they understand, it is only with an idea of Showa era, several decades ago). To promote understanding of this, I use the analogy that our current tasks involving obstetrics (delivery) plus gynecology is like the situation that doctors working in an intensive care unit have outpatient clinics bearing their name and undertakes scheduled operations. Expectations from the public for Ob-Gyn services at hospital facilities are indeed at this level, and our member doctors have dedicated themselves thoroughly day and night toward its realization. Now the generation in which well more than half are female doctors is approaching their 50s, it is required to offer renewed healthcare system that meets public expectations as well as sustainability, in complying with the Act on the Arrangement of Related Acts to Promote Work Style Reform. For that purpose, we further advanced the previous healthcare reform committee to the "committee for establishment of the sustainable Ob-Gyn healthcare system". It is imperative to make significant and rational changes to the Ob-Gyn healthcare system, collaborating with young members through lively activities such as Young Doctors' Committee.
We had been implementing rigorous Ob-Gyn specialist training programs even prior to the Japanese Medical Specialty Board. For subspecialty specialists, the subspecialty societies have already established sophisticated training system, so that we need to handle this carefully considering the balance between its operational workload for fitting the Japanese Medical Specialty Board system. On the other hand, there is a movement to use the specialist system to correct the specialty maldistribution and regional imbalance of doctors . I believe specialists should be trained under excellent programs, and we should not use training system for the correction of uneven distribution. To correct the maldistribution, it is more rational and durable to use financial incentives to induce the selection of clinical departments and to promote the inter-area transfers of physicians of a self-reliant level. As a society, we would like to create a Ob-Gyn healthcare model that maintains the access of all women to our services, improves the comprehensive care of pregnant and nursing women including the social and mental aspects while fulfilling the working style reform, and enables the sustainable local Ob-Gyn healthcare system. Furthermore, based on this, we will work face to face with prefectural governments now responsible for supervising medical institutions such as municipal hospitals that particularly require a close relationship with local citizens.
The act of giving birth and raising a child is a natural thing that human beings have continued without interruption. However, nature is cruel, and many pregnant women and newborns lose their lives in its course. This has led to advancements in medical science, making pregnancy and delivery in our country at the safest level in the world. Particularly, pregnancy and delivery, which can be accomplished naturally without intervention (if we accept many deaths), are the fields subject to differing opinions from the ethical viewpoint. For example, the whole concept of reproductive medicine or prenatal diagnosis sometimes provokes great controversy. Some of these arguments may be directed completely against the movement of international organizations such as WHO. We have addressed these problems on a scientific basis as a specialist group. I think we should continue to have this stance in the future, too. I also think that controversies on healthcare services should always be on the side of the women while maintaining medical and healthcare rationality. The HPV vaccine is also one of the issues of social concern. Administrative decisions made in Japan are far different from the international standard. The parties of this issue are patients with cervical cancer one or two decades from now. While spreading knowledge about the vaccine, we will disseminate information about cervical cancer screening further and examine how it should be. We will continue to convey information and take actions with responsibility to save as many patients as possible from cervical cancer in 10- to 20-years' time.
One of the characteristics of obstetrics and gynecology is that despite its surgical aspects, there is no corresponding internalist in the same field. Thus, we often provide comprehensive treatment from surgeries to medicines. In combination with the fact that part of our services are provided at the patient's own expense, I feel that the medical fee for medical treatment and management, crucial in the obstetrics and gynecology field, is too low. To have Japanese women enjoy the concept of reproductive health broadly, a number of diseases and conditions need to be managed consistently with specialists' wisdom from puberty onwards, for which management in the community is required. Its economic concerns also seem to be important issues in establishing a sustainable medical system in future years without, at the least, reducing the level of access to outpatient treatment.
We have several problems to address, including academic improvement, the establishment of a sustainable obstetrics and gynecology medical system that follows the Act on the Arrangement of Related Acts to Promote Work Style Reform, and the introduction and proper operation of new diverse medical techniques. To address these, we need the collaboration, cooperation, and understanding of not only the members of the Japan Society of Obstetrics and Gynecology, but also the doctors of various organizations including the Japan Association of Obstetricians and Gynecologists, the Japan Medical Association, and the Japanese Medical Science Federation. Dialogue with the general public is also essential. For the next two years, I am determined to exert all efforts to solve these problems. I would greatly appreciate your initiative and support.
Tadashi Kimura, MD, PhD
Chairperson of the Executive Board
Japan Society of Obstetrics and Gynecology